Look at the photo below courtesy of Pat Appleson Studios.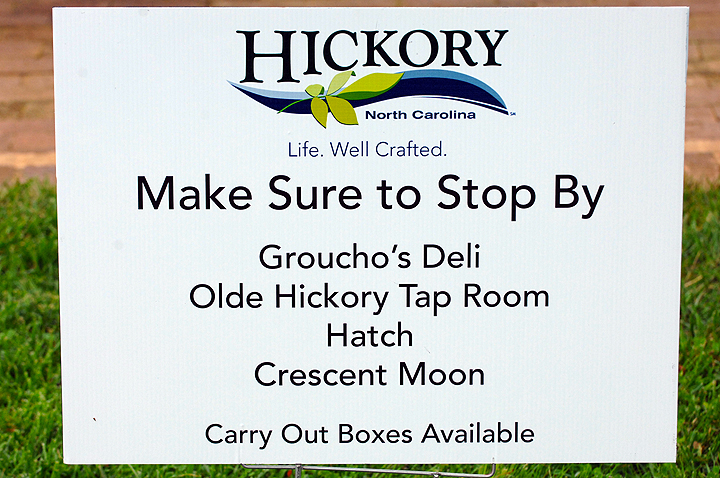 I will swear to you all day long that I have nothing against the businesses on Union Square, but those that know me know and those who don't are never going to care about where I am coming from. My hope is for any business to succeed. What I face is that these certain businesses think I'm picking on them, but really I'm not. What I am saying is that they do not deserve any more promotional support than any other business in Hickory and so the City should not be expressly promoting any business over another.
Look at the promotional sign. What should the people from Copper Bean think about this? What about the owners of Da Vinci's? What about the people who own Sub Station II? or any restaurant or bar in any other part of Hickory?
You see these businesses pay taxes too. They don't get amenities for owning their businesses where they are located. When is the city going to create a structure on Springs Road to bring people out there to eat at one of the establishments there? Or in Southwest Hickory, not that there are many left any more.
And just think, If you own a business in one of these other parts of Hickory, your tax dollars are being funneled to these projects on Union Square to go help the business of someone who might just be your competitor. All you Ayn Rand philosophers, where are you? Does that sound just to you?
Now a few people have labeled the Citizens for Equity in Government as a Liberal Group, but the CEG isn't supporting a system that takes Hickory tax dollars from one business and directs it towards the interest of another. Or spends city funds in a Big Government top-down manner. Doesn't that sound like Sherwood Forest to you?
And if you want to go see the pictures for the Union Square Tent event here is the link -
http://www.appleson.com/Hickory/City%20of%20Hickory%20Name%20the%20Structure%2008-10-12.htm
I have nothing against a structure being built for events in Hickory, but shouldn't the public have had input? And was this structure worth the money that was spent on it? Do you like the fact that the sight lines on Union Square are now gone? Do you feel that this structure aesthetically fits Union Square? And do you think this will be an economic driver for Hickory?