Hound Note

: Reality has hit the fan and it's everywhere. 30 stats to show to anyone that does not believe the middle class is being destroyed - The Economic Collapse Blog - Michael Snyder - August 20th, 2014

- The 30 statistics that you are about to read prove beyond a shadow of a doubt that the middle class in America is being systematically destroyed. Once upon a time, the United States had the largest and most prosperous middle class in the history of the world, but now that is changing at a staggering pace. Yes, the stock market has soared to unprecedented heights this year and there are a few isolated areas of the country that are doing rather well for the moment. But overall, the long-term trends that are eviscerating the middle class just continue to accelerate. Over the past decade or so, the percentage of Americans that are working

has gone way down

, the quality of our jobs has plummeted dramatically and the wealth of the typical American household has fallen precipitously. Meanwhile, we have watched median household income decline

for five years in a row

, we have watched the rate of homeownership in this country decline for eight years in a row and dependence on the government is at an all-time high. Being a part of the middle class in the United States at this point can be compared to playing a game of musical chairs. We can all see chairs being removed from the game, and we are all desperate to continue to have a chair every time the music stops playing. The next time the music stops, will it be your chair that gets removed? And in this economy, you don't even have to lose your job to fall out of the middle class. Our paychecks are remaining very stable while the cost of almost everything that we spend money on consistently (food, gas, health insurance, etc.) is going up rapidly.

Bloomberg

calls this "the no-raises recovery"...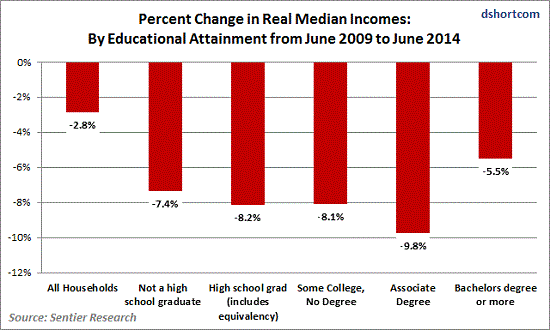 Is the $5 Bill the New $1 Bill? - Washington's Blog - -

August 23, 2014

-
Events, food purchased away from home and live entertainment are increasingly unaffordable to the bottom 90%. It's starting to feel like a $5 bill is the new $1 bill: everything that could be purchased with one or two dollars not that long ago is now $5 or even $10. A few days ago I was enjoying the

Butte County Fair

in California's farmbelt (the Central Valley), and it seemed like a rural county fair was a price baseline that was far enough away from the urban artifice of $100 meals at fancy bistros to reflect the statistically elusive real-world inflation...
We are constantly reassured that inflation near-zero–2% annually or less. On the ground, it seems that stuff manufactured in the global supply chain is still relatively cheap, as are energy and food, at least compared to what they cost elsewhere or could cost if supply chains get disrupted. There are no limits on the cost of government services or government-controlled sectors such as healthcare. Our city garbage service fees just jumped from $356 quarterly to $453, a 27% increase. Note to Federal Reserve: 27% is not 2%. Our monthly healthcare insurance (paid entirely by us, as we're self-employed) leaped $300 per month over the past few years, from $900/month to $1,200/month. These increases add up to thousands of dollars a year. That is not 2% inflation. Clearly, healthcare, government services, events, food purchased away from home and live entertainment are increasingly unaffordable to the bottom 90%.
What's $100 Really Worth In Each State? - Zero Hedge - Tyler Durden - August 24, 2014
- Because average prices for similar goods are much higher in California or New York than in Mississippi or South Dakota,
The Tax Foundation
notes points out that the same amount of dollars will buy you comparatively less in the high-price states, or comparatively more in low-price states.
Regional price differences are strikingly large, and have serious policy implications. The same amount of dollars are worth almost 40 percent more in Mississippi than in DC
, and the differences become even larger if metro area prices are considered instead of statewide averages.

Cornel West: "He posed as a progressive and turned out to be counterfeit. We ended up with a Wall Street presidency, a drone presidency" - Salon - Thomas Frank - August 24, 2014 -
Cornel West is a professor at Union Theological Seminary and one of my favorite public intellectuals, a man who deals in penetrating analyses of current events, expressed in a pithy and highly quotable way. I first met him nearly six years ago, while the financial crisis and the presidential election were both under way, and I was much impressed by what he had to say. I got back in touch with him last week, to see how he assesses the nation's progress since then. The conversation ranged from Washington, D.C., to Ferguson, Missouri, and although the picture of the nation was sometimes bleak, our talk ended on a surprising note.
Last time we talked it was almost six years ago. It was a panel discussion The New Yorker magazine had set up, it was in the fall of 2008, so it was while the financial crisis was happening, while it was actually in progress. The economy was crumbling and everybody was panicking. I remember you speaking about the financial crisis in a way that I thought made sense. There was a lot of confusion at the time. People didn't know where to turn or what was going on. I also remember, and this is just me I'm talking about, being impressed by Barack Obama who was running for president at the time. I don't know if you and I talked about him on that occasion. But at the time, I sometimes thought that he looked like he had what this country needed. So that's my first question, it's a lot of ground to cover but how do you feel things have worked out since then, both with the economy and with this president? That was a huge turning point, that moment in 2008, and my own feeling is that we didn't turn.
No, the thing is he posed as a progressive and turned out to be counterfeit. We ended up with a Wall Street presidency, a drone presidency, a national security presidency. The torturers go free. The Wall Street executives go free. The war crimes in the Middle East, especially now in Gaza, the war criminals go free. And yet, you know, he acted as if he was both a progressive and as if he was concerned about the issues of serious injustice and inequality and it turned out that he's just another neoliberal centrist with a smile and with a nice rhetorical flair. And that's a very sad moment in the history of the nation because we are—we're an empire in decline. Our culture is in increasing decay. Our school systems are in deep trouble. Our political system is dysfunctional. Our leaders are more and more bought off with legalized bribery and normalized corruption in Congress and too much of our civil life. You would think that we needed somebody—a Lincoln-like figure who could revive some democratic spirit and democratic possibility...
Bix Weir: Who owns your mortgage? Do you own that stock?