This Agenda is about the Hickory City Council meeting that took place on the date listed above. City council meetings are held on the first and third Tuesdays of each Month in the Council Chambers of the Julian Whitener building.
At right of this page under Main Information links is an Hickory's City Website link. If you click on that link, it takes you to our city's website/ The City's website evolves over time, but currently towrds the top right there is a Link called Quick Links. Click that on and look for the Agenda's and Minutes link you need to click. Scroll down from there and this will show you a list of PDF files to upcoming and previous meetings.
Agendas show what is on the docket for the meeting of that date. The Minutes is an actual summary of the proceedings of the meeting of that date. You can also look in the upper right hand corner of the front page of the Hickory Hound and (will soon) find the link to the past history of Hickory City Newsletters.
Here is a summary of the agenda of the meeting. There were a couple of important items that were discussed at this meeting and the details are listed further below:
Please remember that pressing Ctrl and + will magnify the text and page and pressing Ctrl and - will make the text and page smaller. This will help the readability for those with smaller screens and/or eye difficulties.
=================================================
Hound Notes:

Late in submitting this agenda. I didn't see a whole lot here. We'll see what happens at the meeting.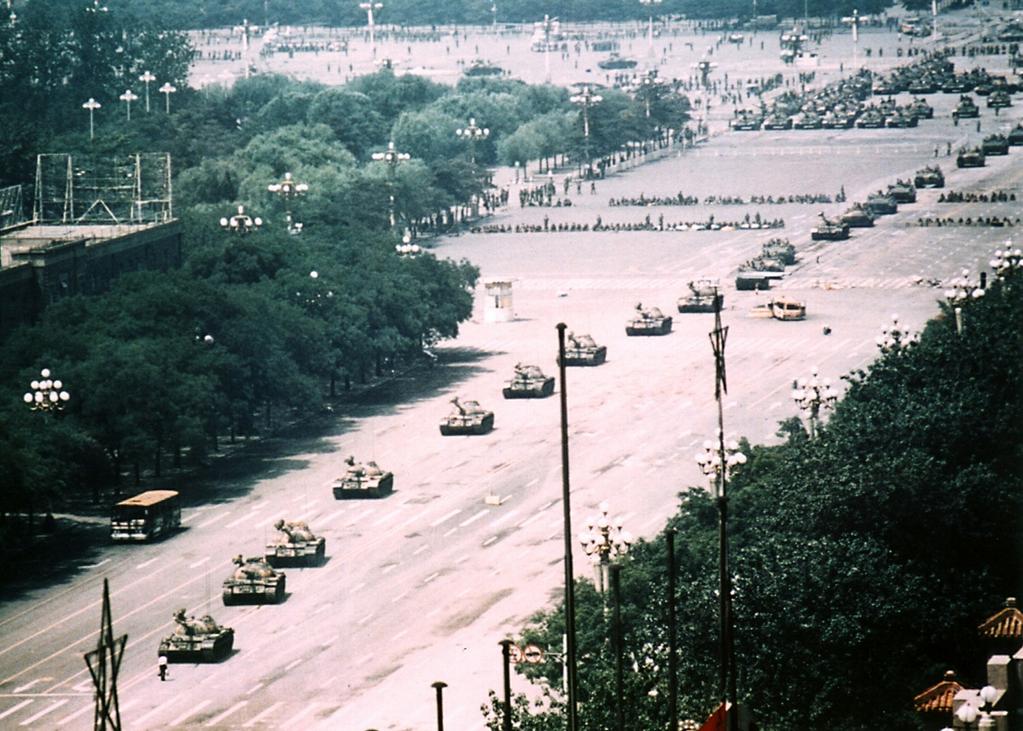 The bigger picture of the tank man on Tienanmen square, 1989
=================================================
Invocation by Rev. Mark Andrews, St. Luke's United Methodist Church
Special Presentations
A. Proclamation to Hickory High School Lady Tornadoes Basketball Team.
Consent Agenda:
A. Approval of a Lease of City-owned Properties to Safe Harbor Rescue Mission, Inc. Located at 16 1st Avenue NE, and 18 1st Avenue NE, Hickory.
- The properties located at 16 and 18 1st Avenue NE have been vacant for the past few years. Safe Harbor approached staff about using the property for office space as they have outgrown their current location. The initial term for the proposed lease will be for approximately two years for the nominal amount of one dollar. The lease will renew by mutual option for up to two additional one year terms unless notice is given by either party to terminate. The lessee will be responsible for the payment of all utilities furnished to the property, securing its own janitorial service, maintaining the premise in good order, and routine maintenance and repairs of the property. Staff recommends approval of the lease agreement with Safe Harbor Rescue Mission, Inc. Public Notice of Intent to Lease was advertised in a newspaper having general circulation in the Hickory area on April 10, 2015.
B. Approval of a Cemetery Deed from City of Hickory to Bruce E. Meisner
, (Oakwood Cemetery, Plot A8, Lot Number 1 and 2, Section 58) (Prepared by Deputy City Attorney Arnita Dula).
C. Special Events Activities Application March of Dimes
– 5K Walk, Rebecca Moser, March of Dimes, April 25, 2015, 7:00 a.m. to 12:00 p.m., L.P. Fans Stadium.
D. Special Events Activities Application Strong Body Strong Mind Wellness Celebration
, Sally Learned, Development Officer, Catawba Valley Behavioral Healthcare, May 16, 2015, 7:30 a.m. to 12:00 p.m., 327 1st Avenue NW.
E. Special Events Activities Application 2015 Walk to End Alzheimer's
, Meghan Lawton, Regional Manager, Alzheimers Association of WNC, October 3, 2015, 7:00 a.m. to 1:00p.m., L.P. Frans Stadium.
F. Special Events Activities Application Reading New Testament of Bible
, Kathy Johnson, Pastor, Greater Shekinah Glory Church, May 6, 2015 6:30 a.m. to 9:30 p.m., above the steps of the Municipal Building.
G. Special Events Activities Application Fleet Feet Hickory and Crawdads Home Run Trot 5K,
Juliet Horan, Owner, Fleet Feet Sports, May 9, 2015, 6:00 a.m. to 11:00 a.m., L.P. Frans Stadium/Winkler Park.
H. Amended Special Events Activities Application National Day of Prayer 2015
, Charles Moretz, Christopher Harris, Managers, Ignite Hickory, Inc., Event Date May 7, 2015, Sails on Square. Amended Application to allow for set-up on May 6, 2015 at 5:00 p.m., adding Security by Griffith Security from May 6, 2015 at 8:00 p.m. to May 7, 2015 at 5:00 a.m. The time of the event will remain the same starting at 6:30 a.m. with cleanup ending at 10:00 p.m.
I. Citizens' Advisory Committee Recommendations for Assistance through the City of Hickory's Housing Programs.
- The following request was considered by the Citizens' Advisory Committee at their regular meeting on April 2, 2015:
 Jean Dula, 426 7th Avenue Court SE, Hickory
The Citizen's Advisory Committee recommends approval for assistance not to exceed $15,000 for repairs to her house. Assistance would be in the form of a zero percent interest deferred loan.
J. Call for a Public Hearing to Consider Community Development Block Grant
2015-2019 Consolidated Plan.
K. Approval to Apply for a Grant to Assist in Funding the Purchase of Bulletproof Vests for Police Officers.
- Since 1999, the Bulletproof Vest Partnership (BVP) has awarded more than 13,000 jurisdictions, a total of $393 million in federal funds for the purchase of over one million vests. BVP is a critical resource for state and local jurisdictions that saves lives. This grant will pay up to 50% of the cost of NIJ approved vests purchased by Hickory Police Department. Forty-five vests have been requested at an estimated price of $750 for each vest. Agenices will be notified that funds are available after July 1, 2015 if awarded the grant. Funds are placed in the police department budget uniform line item annually to purchase vests for police officers. Life expectancy of each vest is approximately five (5) years. The Police Department requests approval for the submission of this grant to receive up to 50% funding to purchase bulletproof vests for police officers.
L. Acceptance of Bid and Award of Construction Contract to Hickory Sand Company Inc. in the Amount of $316,752.50.
- The waterlines on 3rd Avenue SE and 5th Street SE date back to the 1940' and 1950's and are primarily constructed of cast iron material due to the era of construction. These specific streets were identified by staff in 2005 during a system evaluation as waterlines that required evaluation due to the number of maintenance calls. The frequency of maintenance calls contributed to the occurrences of discolored water for customers and combined those issues prompted City staff to initiate replacement. Hickory Sand Company, Inc. was the lowest responsible bidder. Staff recommends Council's acceptance of a bid and award of construction contract with the responsible low bidder Hickory Sand Company, Inc. for the construction of the 3rd Avenue SE, and 5th Street SE waterline replacement project in the amount of $316,752.50. This is a budgeted project in the FY 14/15 Capital Budget for the Public Utilities Department.
M. Budget Ordinance Amendment Number 18.
1. To budget a $100 Library donation
from Jean C. Boggs in memory of Marcus L. Boggs, Jr. in the adult programming line item.
2. To appropriate $30,837 of GF
- Appropriated Fund Balance and transfer to the Airport's Maintenance and Repair of Buildings line item. This appropriation is needed to replace the HVAC systems for the terminal lobby and the FAA Space. Replacement funds are budgeted in the FY15-16 budget however due to the age and unreliability of the units it is recommended to replace them this current budget year.
New Business - Public Hearings
1. Consideration of Closing a Portion of Main Avenue Place SE.
- The City Clerk received a petition from Attorney Terry M. Taylor on behalf of the property owner Woodland Village, LLC, (Successor in interest to Center Street Crossing I, LLC and Center Street Crossing II, LLC). The petition requests the City close said portion of Main Avenue Place SE. The signature on the petition represents the owner of both of the tracts of property abutting this portion of the right of way. The petition fee of $575 has been paid. This public hearing was advertised in a newspaper having general circulation in the Hickory area on March 20, March 27, April 3, and April 10, 2015.
New Business - Departmental Reports:
1. Vacant Building Revitalization and Demolition Grant for 890 F Ave Dr SE, LLC.
- City Council established the Vacant Building Revitalization and Demolition Grant program on September 16, 2008. The program provides grant funding up to $30,000 for project to renovate and rehabilitate vacant buildings within the Urban Revitalization Area and targeted industrial buildings in other areas of the City. 890 F Ave Dr SE, LLC has applied for a Vacant Building Revitalization Grant in the amount of $6,000 to assist in the renovation of the former Thomasville Furniture Plant located at 890 F Avenue Drive SE. The applicant plans to renovate the facility for furniture manufacturing. The applicant plans to invest approximately $40,000 in real property improvements to rehabilitate the mill
building. This makes the project eligible for a $6,000 grant. The Business Development Committee reviewed the application and recommends approval. Staff recommends approval of the Vacant Building Revitalization and Demolition Grant for 890 F Ave Dr SE, LLC.
2. Update on Community Policing