We've heard this saying the last few months "If nothing changes, nothing changes." Frankly, it is a play off of what Harry has quoted (for years) from Mark Twain, "If you keep doing what you're doing; you're gonna get what you've got."
Remember the Mayor telling you back last September that we had
turned the corner. Not but a few months later, we are being told about how bad the direction we are headed is. We are told that we have to do something to get the young people back in the area.
Up in the right hand corner of this site is a link from back in 2009, five years ago, where issues involving Hickory were laid out -
The Fixing Hickory Series. Anyone who claims that I, or others, have not offered constructive solutions just doesn't want to sanction what has been said on this site. Again, look in the upper right hand corner, from 2009,
Time to put the Puzzle together.
Below are quotes from articles from five to nearly seven years ago that pointed to the Reality the Powers That Be in this community were finally forced to acknowledge.
Remember what they told you two years ago?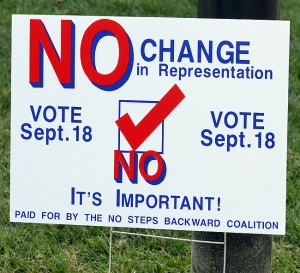 What happened my friend?
An All-American City deserves first-class leadership - Hickory Daily Record - JT Shell - July 15, 2007
I personally would like to let the city council know that 99% of us don't care about downtown Hickory. Hickory is a suburban area that is well spread out. It is time to put less development money into downtown and start investing it in the neglected areas of northeast, southeast, and southwest Hickory.
If the people downtown want the area developed, then it is time that they 100% foot the bill like every other business does. So much money has been wasted on downtown. Guess what, 99% of us could care less about going downtown and you aren't going to change our minds. So as usual you have been throwing good money after bad.
Building the Bridge to Hickory's Future - (Submitted to the Hickory Daily Record on 7/23/2007) - Published Hickory Hound - JT Shell - August 28, 2008 -
The best and brightest young people in this area are going away to college and they aren't returning. They can't make the kind of money here that they can in cities that have better economies. Those left go straight to work out of high school.

The vast majority of these kids can't find good paying jobs in our present economic predicament. The factories here keep wages artificially low by hiring illegal immigrants and utilizing temp agencies. This may net them more profit now, but it will lead to a bleak future for our city. Without more successful twenty and thirty year olds, this city will die.

We cannot build this area on service jobs. We must have industry. We must build and create material goods. That brings money into this area and creates value.

Restaurants, bars, retail stores, and professional offices are nice; but they do not add value to our area. They are a luxury, because if people don't have the money to purchase these services, then they will not be successful. How many of these businesses have come and gone the last few years?

Too many people in Hickory want to put the cart before the horse. The bureaucratic commissions and agencies are fine and dandy if you are looking to line the pockets of bureaucrats, but do they create value? Seems they just make expensive suggestions. It doesn't take a rocket scientist to understand what our problem is.

What is the number one priority of this city right now? We need better jobs for the people of Hickory. If we work on developing a better job base, then people will make more money. More jobs in the area means more competition for labor means higher wages.

This will create a more dynamic economy that will feed off of itself. If people make more money, then they will spend more. Businesses will prosper, property values will increase, and there will be increased revenue for our local government to improve Hickory.
Hickory needs Real Transformation - JT Shell - June 11, 2009
Once again we apparently can't find people to serve, why? Could it be that we have too many of these commissions? Could it be that the upper echelons of Hickory's leadership want to fully control the process and its outcome? Could it be that when they agree to their findings that the City Officials don't act on them and go off in their own direction of personal self interest? How many times have we seen exactly that happen before?

I have personally been flat out told that the reason people don't serve is because City Officials are not willing to listen. They basically want people to wrap their (the leadership's) views up in a neat little package, so that they can present them as "The People's Idea." When the leadership does not like the task force's findings, and then they take the ball and run in a different direction, then the participants feel disenfranchised and no longer want to participate in any city processes. That folks, is what has led to the ambivalence we find amongst the go-getters and movers and shakers in this community. Have you noticed that our developers are taking their monies and influence to the fringes of Hickory (Granite Falls, Conover, Claremont). Hmmm, I wonder why that has happened?
ANNOUNCEMENT AND LETTER FROM THE HEART - Harry Hipps - June 22, 2009
Our City is not an island. We are all interlinked today, and we have to deal with all kinds of issues just as we do on the national level. Hickory has formidable challenges. Our economy has been devastated structurally by the globalization of textiles and furniture. Telecom valley is on hold. We have challenges in education, the environment and the resources we have here, and many other things as well. Sadly, our City government has been slow to recognize the transformational times we are in and respond accordingly.

Citizen participation is scant. The politically connected still get the lion's share of the attention and resources. Our dreams and expectations are dimming and we have become like rabbits in a trap - not liking the trap, but scared to move out of it. For too long, many have wanted to ignore the situation and hope it gets better on its own. Some are scared they will get blamed. Many just want the State government to build a new economy for us or maybe Obama will throw us a bone. Where are the bold leaders like some of the ones in our past that took the initiative and built great companies with hard work and determination? Our ancestors and founding fathers would be shaking their heads.