10 Signs The Takedown Of Paper Gold Has Unleashed An Unprecedented Global Run On Physical Gold And Silver - Economic Collapse Blog - Michael - April 18th, 2013
- The crash of the price of paper gold on Monday has unleashed an unprecedented global frenzy to buy physical gold and silver. All over the planet, people are recognizing that this is a unique opportunity to be able to acquire large amounts of gold and silver at a bargain price. So precious metals dealers now find themselves being overwhelmed with orders in the United States, in Canada, in Europe and over in Asia. Will this massive run on physical gold and silver soon lead to widespread shortages of those metals? Instead of frightening people away from gold and silver,
the takedown of paper gold
seems to have had just the opposite effect. People just can't seem to get enough physical gold and silver right now. Those that wish that they had gotten into gold when it was less than $1400 an ounce are able to do so now, and it is absolutely insane that silver is sitting at about $23 an ounce. If the big banks continue to play games with the price of gold, we are going to see existing supplies of physical gold and silver dry up very quickly. And once reports of physical shortages of gold and silver become widespread, it is going to absolutely rock the financial world. But this is what happens when you manipulate free markets - it often has unintended consequences far beyond anything that you ever imagined. The following are 10 signs that the takedown of paper gold has unleashed an unprecedented global run on physical gold and silver...
History Tells Us That A Gold Crash + An Oil Crash
- Guaranteed Recession - Michael - April 17th, 2013
eBay Starts Massive Push Against Sales Tax
- CNBC - April 21, 2013
- EBay Chief Executive John Donahoe began emailing millions of users of the company's online marketplace on Sunday in an unprecedented lobbying effort to change looming Federal sales tax legislation. The e-commerce giant plans to send emails from Donahoe to at least 40 million eBay users, including most sellers on the marketplace. The first messages were sent out Sunday morning. In the emails, Donahoe said the legislation, known as the Marketplace Fairness Act, unfairly burdens small online merchants and asked
eBay
users to send an email message to members of Congress asking for changes. The legislation, due to be voted on by the Senate in coming days, gives states the power to compel retailers outside their borders to collect online sales tax. Currently, states can only require merchants with a physical presence within their borders to collect. The legislation includes an exemption for merchants that generate less than $1 million in annual out-of-state revenue. Donahoe argued in the emails that merchants with less than $10 million in annual out-of-state sales, or fewer than 50 employees, should be exempt. Reuters viewed copies of the emails. In emails to eBay sellers, Donahoe singled out
Amazon.com
, eBay's main rival, which supports the current legislation. "This legislation treats you and big multi-billion dollar online retailers - such as Amazon - exactly the same," Donahoe wrote. "Those fighting for this change refuse to acknowledge that the burden on businesses like yours is far greater than for a big national retailer." Amazon generates more than $10 million in sales every 90 minutes, giving the world's largest Internet retailer more resources than a typical small merchant to collect sales tax in all states, Donahoe argued....
GM to add four more plants in China by 2015: executive - Reuters through Yahoo - Bernie Woodall and Norihiko Shirouzu - April 20, 2013
- SHANGHAI (Reuters) - General Motors Co (GM.N) will add four new plants in the next three years in China to bring its production capacity to 5 million vehicles a year, the head of GM China said on Saturday at the Shanghai auto show. Bob Socia, head of GM China, said that the company and its joint venture partners will invest $11 billion in China by 2016, but did not break out the cost of the new plants.
3 reasons the housing recovery may not last - CNN Money - Les Christie - April 18, 2013
-
The housing market has made a big comeback over the past year; home prices have surged some 8% and homebuyers can't seem to buy up properties fast enough.
But just as quickly as the market is gaining ground, some industry experts worry it will come crashing back to Earth. Here are three reasons the housing market recovery may not last:
1.
The
housing recovery is being led by investors...
2.
The economic recovery is just not strong enough yet...
3. Government cuts will hurt homeowners...
Google Fiber to launch in Provo, Utah - CNN Money - Julianne Pepitone - April 17, 2013
-
Google Fiber is branching out yet again. Google's ultra-high-speed network is slated to come to Provo, Utah.
Google Fiber offers Internet speeds of up to 1 gigabit per second, which Google says is 100 times faster than the average American Internet user's service. Google (
GOOG
,
Fortune 500
) also offers a Fiber TV service that lets customers watch all shows in HD, record up to eight shows at once and store up to 500 hours of HD video in the cloud. Customers can watch across several devices, including cell phones and PCs. The Google-Provo deal isn't finalized quite yet. Google said in a
blog post
that the company has signed an agreement to buy iProvo, an existing fiber-optic network owned by the city. Provo's city council will vote on Google's iProvo purchase next Tuesday. If it's approved, Google said it will "upgrade the network to gigabit technology and finish network construction so that every home along the existing iProvo network would have the opportunity to connect to Google Fiber." Assuming that the iProvo purchase passes, Provo will be the third location to get Google Fiber. It will technically be the fourth city to receive access, after
Google launched
the service last summer in select neighborhoods in Kansas City, Kan., and Kansas City, Mo. Earlier this month, Google announced
Fiber is also coming to Austin
, Texas.
Intel offers more evidence of PC decline - CNN Money - James O'Toole - April 16, 2013
-
In the midst of plunging PC sales, chipmaker Intel is doing its best to remain optimistic.
Intel reported another decline in chip sales for PCs as part of its first-quarter results on Tuesday, with revenue from that business falling 6% compared to a year ago. The news comes just a few days after research firm IDC reported that
worldwide PC sales plunged 14%
last quarter -- the worst yearly decline since IDC began tracking the data in 1994. Intel's overall revenue fell 2.5% compared to last year, to $12.6 billion, and its net income dropped 25%, to $2 billion.
The company tried to draw investors' attention toward one of its bright spots: its growing in its data center business, where sales rose nearly 8% from last year, to $2.5 billion. Intel (
INTC
,
Fortune 500
) also offered solid guidance for the upcoming quarter. Shares rose slightly in after-hours trading Tuesday. Intel's results come as the PC industry continues to struggle against the rise of tablets like Apple's (
AAPL
,
Fortune 500
) iPad and other mobile devices. Intel and its rivals have tried to innovate their way out of their sales slump, but so far to little avail..
CEOs earn 354 times more than average worker - CNN Money - Jennifer Liberto - April 15, 2013
-
Chief executives of the nation's largest companies earned an average of $12.3 million in total pay last year -- 354 times more than a typical American worker, according to the AFL-CIO.
The average worker made $34,645 last year, according to the group that represents over 50 trade unions. Oracle (
ORCL
,
Fortune 500
) CEO Larry Ellison's $96.1 million pay package topped the list, followed by $54.3 million earned by Credit Acceptance Corp (
CACC
).'s Brett Roberts and Discovery Communications (
DISCA
) CEO David Zaslav's $50 million, according to the union's
pay project
. The one stand out was Apple (
AAPL
,
Fortune 500
) CEO Timothy Cook, whose pay dropped to
$4.2 million from $376 million in 2011
, when his compensation package got a boost from long-term stock awards. The dip in Cook's pay was enough to lower the overall average for CEOs of top companies by 5%
from 2011
.
Related: 20 top-paid CEOS
The discrepancy in pay between CEOs and the average worker has skyrocketed over the years, peaking in 2000, when the gap was 525 times. In 1980, CEO pay was 42 times that of the average worker.
Fewer businesses provide health insurance - CNN Money - Jose Pagliery - April 15, 2013 -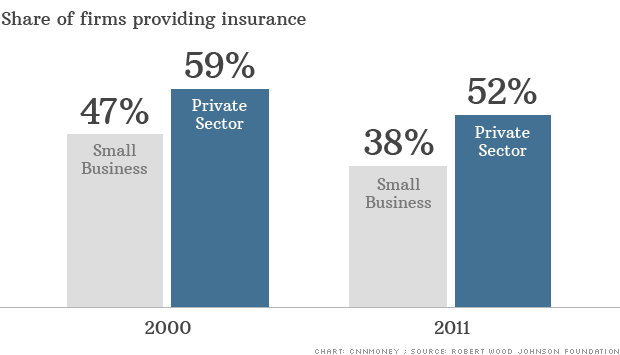 Employee health insurance is on the decline, and for small businesses, it's gone from bad to worse. The share of small companies providing insurance plummeted from 47% to 38% between the years 2000 and 2011, according to a
report
from
the Robert Wood Johnson Foundation. The proportion of all companies offering insurance slid from 59% to 52%. Annual premiums paid by individuals doubled from $2,490 to $5,081, while family premiums rose even more, from $6,415 to $14,447. As a result, fewer companies are offering health insurance, and fewer employees are taking it. The Robert Wood Johnson Foundation defined a small business along new health reform guidelines: those with fewer than 50 employees. The organization is a long-time supporter of health care reform.
US desperately hides rising Poverty