No Jobs For Americans - Paul Craig Roberts - January 10, 2014
- The alleged recovery took a direct hit from Friday's payroll jobs report. The Bureau of Labor Statistics reported that the economy created 74,000 net new jobs in December. Wholesale and retail trade accounted for 70,700 of these jobs or 95.5%. It is likely that the December wholesale and retail hires were temporary for the Christmas shopping season, which doesn't seem to have been very exuberant, especially in light of Macy's decision to close five stores and lay off 2,500 employees. It is a good bet that these December hires have already been laid off. A job gain of 74,000, even if it is real, is about half of what is needed to keep the unemployment rate even with population growth. Yet the Bureau of Labor Statistics reports that the unemployment rate fell from 7.0% to 6.7%. Clearly, this decline in unemployment was not caused by the reported 74,000 jobs gain. The unemployment rate fell, because Americans unable to find jobs ceased looking for employment and, thereby, ceased to be counted as unemployed. In America the unemployment rate is a deception just like everything else. The rate of American unemployment fell, because people can't find jobs. The fewer the jobs, the lower the unemployment rate. I noticed today that the financial media presstitutes were a bit hesitant to hype the drop in the rate of unemployment when there was no jobs growth to account for it. The Wall Street and bank economists did their best to disbelieve the jobs report as did some of the bought-and-paid-for academic economists. Too many interests have a stake in the non-existent recovery declared 4.5 years ago to be able to admit that it is not really there. I have been examining the monthly jobs reports for a decade or longer. I must say that I am struck by the December report. Normally, a mainstay of jobs gain is the category "education and health services," with "ambulatory health care services" adding thousands of jobs. In December the net contribution of "education and health services" was zero, with "ambulatory health care services" losing 4,100 jobs and health care losing 6,000 jobs. If memory serves, this is a first. Perhaps it reflects adverse impacts of the ripoff known as Obamacare, possibly the worst piece of domestic legislation passed in decades. I was also struck by the report that the gain in employment of waitresses and bartenders, normally a large percentage of the job gain, was down to 9,400 jobs, which were offset by declines elsewhere, such as the layoff of local school teachers...
More of the jobless are giving up on finding work - CNN Money - Chris Isidore - January 10, 2014
- The unemployment rate fell to 6.7% in December -- the first time it's been below 7% in five years. But the drop was for all the wrong reasons. The rate fell because many people got fed up, stopped looking for work and dropped out of the labor force altogether. (The jobless have to be actively looking for work in order to be counted as unemployed by the Labor Department.) In December, 347,000 people dropped out of the workforce. That pushed the participation rate, which is the percentage of the population in the labor force, down to 62.8%. That's the lowest it's been since early 1978.
The percentage of the population with a job or looking for work has fallen from a record high in early 2000 to the lowest level in 35 years in December.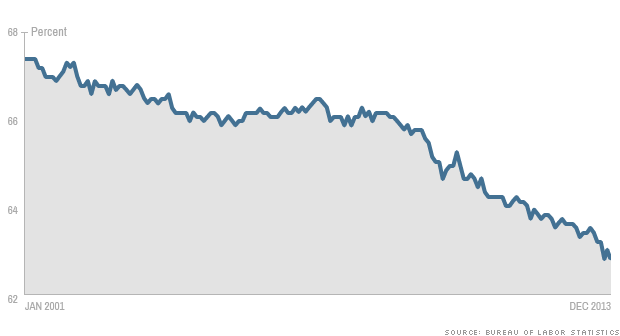 What Caused the Crash In the Labor Participation Rate? - WashingtonsBlog - January 11, 2014
- What's causing the crash in labor participation? Initially, the number of women not in the labor force
climbed to a new high
. This is significant because the labor force
skyrocketed in the 1960s
when feminism encouraged women to work outside of the home:
The Urban Institute notes
[that] what's happening is that workers aren't entering
the labor force at the same rates they used to. That's especially true for women, who are much less likely to enter the labor force today than they were in 2002 and 2003. Many of them, the paper notes, appear to be enrolling in school instead or deciding to start families.
Washington Post notes:
Americans over the age of 65 are much
less likely to work than prime-age Americans. And since that subset of Americans is expanding its ranks, that drives the labor-force participation rate down.
Economists disagree, however, on exactly how much demographics are responsible for the current fall in the participation rate. The Chicago Fed
estimated
in 2012 that retirements accounted for one-fourth of the drop in labor force participation since the recession began. Other analysts, including Barclays,
have suggested
that aging Boomers could account for a bigger slice of the drop.
Meanwhile,
a recent paper
by Shigeru Fujita of the Federal Reserve Bank of Philadelphia staked out a more nuanced view: Demographics, he argued, didn't play a huge role in the labor-force drop between 2007 and 2011. But since then, retirements are responsible for basically the
entire
fall of the participation rate. One possible reason is that many older Americans postponed retirement immediately after the financial crisis to rebuild their battered 401(k)s. By 2012 or so, they began retiring en masse. However, Zero Hedge and Bloomberg
show
that there are countervailing trends:
20,000 Fewer Women Held Jobs in December - CNSnews - Ali Meyer - January 10, 2014
- The number of employed women 16 and over declined by 20,000 from November to December, according to data released today by the Bureau of Labor Statistics. The number of women employed dropped from 67,882,000 in November to 67,862,000 in December. Additionally, the number of women who are not in the labor force climbed to a record high of 55,028,000 last month. That was up slightly from the 55,026,000 women who were not in the labor force in October, and up 203,000 from 54,825,000 women who were not in the labor force in November. In December, according to BLS, the labor force participation rate for women was 56.9 percent, marginally down from 57.0 percent in November but up from 56.8 percent in October. The unemployment rate for women also decreased from 6.7 percent in November to 6.5 percent in December.

Employment Recovery? 1,600 Workers Apply For Just 36 Jobs At An Ice Cream Plant In Maryland - The Economic Collapse Blog - Michael Snyder - January 7th, 2014
- The stock market may be soaring to unprecedented heights, but things just continue to get even tougher for the middle class. In this economic environment, there is intense competition for virtually all kinds of jobs. For example, more than 1,600 applications were recently submitted for just 36 jobs at an ice cream plant in Hagerstown, Maryland. That means that those applying have about a 2 percent chance of being hired. About 98 percent of the applicants will be turned away. That is how tough things are in many areas of the country today. It is now more than five years after the great financial crash of 2008, and the level of employment in the United States
is still almost exactly where it was at
during the worst moments of the last recession. And this is just the beginning. The next major financial crash is rapidly approaching, and once it strikes our employment crisis is going to get much, much worse. Working at an ice cream plant does not pay very well. But at least it beats flipping burgers or stocking shelves at Wal-Mart. And in this economy, there is no shortage of desperate workers that are willing to take just about any job that they can find. The following is how a
Breitbart article
described the flood of applications that were received for just 36 positions at an ice cream plant owned by Shenandoah Family Farms in Hagerstown, Maryland... Anyone that believes that the economic crisis is "over" is just being delusional. It may be "over" for the boys and girls that work on Wall Street, but even their good times are only temporary. Of course most Americans are not fooled by the propaganda being put out by the mainstream media. According to a recent
CNN poll
, 70 percent of all Americans believe that "the economy is generally in poor shape". And according to
another survey
, the economy is still the #1 concern for American voters by a good margin and unemployment is still the #2 concern for American voters by a good margin. In other words, "
It's the economy, stupid!
" The American people can see that mid-wage jobs are disappearing and that the middle class is being systematically eviscerated. The following is a short excerpt from a recent
Business Insider article
...
David Stockman Interview on King World News - January 11, 2014
- David A. Stockman is Former Director of the US Office of Management and Budget (USOMB), Economic Policy Maker, Politician, Financier & Acclaimed Author - After leaving the White House, Stockman had a 20-year career on Wall Street where he joined Salomon Bros. He later became one of the original partners at New York-based private equity firm, The Blackstone Group and in 1999 started his own private equity fund based in Greenwich, Connecticut. Defying right- and left-wing boxes, his latest book a
New York Times
best-seller,
The Great Deformation: The Corruption of Capitalism in America (2013)
,
Stockman lays out how the U.S. has devolved from a free market economy into one fatally deformed by Washington's endless fiscal largesse, K-street lobbies and Fed sponsored bailouts and printing press money.
(Link to Interview)
From Non-GAAP To Non-Sense: David Stockman Slams The "Earnings Ex-Items" Smoke-Screen - Zero Hedge -Tyler Durden - January 11, 2014
- (Talks about manipulation of Earning Per Share through charge offs to create the illusion that P/E multiples aren't overvalued).
As traffic slumps and teen-oriented stores struggle, retailers suffer worst holiday season since 2009 - Marketwatch - Wall Street Journal - Andria Chang - January 9, 2014
- With the exception of a few bright spots, such as Costco Wholesale Corp., the downbeat forecasts for the holiday season have turned out to be a prophecy fulfilled. A slew of retailers across a wide variety of industry segments, including American Eagle Outfitters Inc.
AEO
, Victoria's Secret parent L Brands Inc.
LB
, Pier 1 Imports Inc.
PIR
, Family Dollar Stores Inc.
FDO
, Bed Bath & Beyond Inc.
BBBY
and Hhgregg
HGG
, have given disappointing forecasts for the quarter after ringing up disappointing holiday-season sales. American Eagle said strong traffic and sales over the Thanksgiving weekend were not sustained, with results through Christmas week missing internal expectations and forcing the chain to offer profit-eroding discounts. A late surge in shopping in the week ended Dec. 28 also failed to stop industrywide holiday sales from seeing their slowest growth since 2009.
JP Morgan Pays $2 Billion to Avoid Prosecution for Its Involvement In Madoff Ponzi Scheme - WashingtonsBlog -

January 6, 2014
-
Bernie Madoff has said all along that
JP Morgan knew about – and knowingly profited from – his Ponzi schemes
. So JP Morgan has agreed to pay the government
$2 billion to avoid investigation and prosecution
. While this may sound like a lot of money, it is
spare sofa change
for a big bank like JP Morgan. It's not just the Madoff scheme. As shown below, the big banks –
including JP Morgan
– are manipulating
virtually every market
– both in the financial sector and the
real economy
– and breaking
virtually every law on the books
.
Who gets your digital fortune when you die? - Marketwatch - Wall Street Journal - Andrea Coombes - January 10, 2014
- Do you have a vast iTunes library? Maybe some e-books stashed on a Kindle or Nook? Do you sell items on eBay or use PayPal? Bitcoins? Got an online-only bank account? Email and
Facebook
? Americans value their digital assets at more than $54,000 on average, according to a 2011 survey conducted for McAfee, a security technology company — but few people take the time create an estate plan for their digital assets. Without a plan in place, you risk burying your family in red tape as they try to get access to and deal with your online accounts that may have sentimental, practical or monetary value. If you have, say, a Yahoo email account, your emails might be deleted before your family has a chance to review them. In other cases, maybe your family gains access to emails that you'd rather they didn't see. Or, maybe you've been blogging for years, and your family wants to maintain your online writing as a sort of memorial. Without access to the accounts through which you manage that blog, it might be deleted before your family can act, or spammers might take over the comments section. These are the sorts of problems that a digital estate plan — one that details your online assets — can help prevent. Keep in mind that, given the legal complexities, a digital estate plan won't guarantee your wishes are met. But it will help your executor as he or she attempts to manage and distribute your assets.